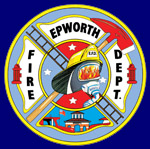 Web Counters
Website Visitors
Since
March 13, 2008

Visitors Today
Jul 20, 2018

2018 Response
Jan
12
Feb
15
Mar
21
Apr
27
May
31
Jun
14
Jul
13
Aug
Sep
Oct
Nov
Dec
Total
133
Responses 2017 - 2015
2017
225
2016
199
2015
170
Responses 2014 - 2000
2014
192
2013
177
2012
182
2011
191
2010
190
2009
187
2008
185
2007
198
2006
173
2005
142
2004
182
2003
183
2002
148
2001
164
2000
172
Responses 1999 - 1985
1999
176
1998
195
1997
174
1996
208
1995
163
1994
173
1993
167
1992
150
1991
140
1990
120
1989
165
1988
139
1987
130
1986
117
1985
143
Responses 1984 - 1970
1984
124
1983
115
1982
111
1981
100
1980
100
1979
77
1978
94
1977
97
1976
80
1975
64
1974
63
1973
46
1972
46
1971
50
1970
58
Epworth Fire Responds to Fire at Kordell Truck and Trailer
By Chief Thomas Berger
August 8, 2017

At 1:28 p.m. on Tuesday, August 8th, 2017 the Epworth Fire Department was notified of a semi tractor-trailer and building on fire at Kordell Truck and Trailer located at 15665 Key City Lane in Vernon Township rural Peosta. Epworth Engine 702 arrived at 1:31 p.m. and found a semi tractor and trailer inside a building fully engulfed in fire. The fire had extended to the building. Mutual aid was received from the Centralia-Peosta and Farley Fire Departments. Dubuque Fire Ladder 512 also responded to assist with cutting ventilation holes in the roof of the structure. The Farley Fire Department also responded with the mobile air compressor unit to refill SCBA tanks. Around 40 firefighters responded to the scene. The building is owned by Craig Smith and it houses two other businesses in addition to Kordell, Smith Cabinet Works and Mark Fondell Excavating. The portion of the building occupied by Kordell sustained heavy heat, smoke and water damage. Fondell Excavating sustained smoke and water damage and Smith Cabinet Works sustained smoke damage. No damage estimate is currently available. The fire started in the refrigerator unit on the trailer of the semi and is considered to be accidental. One firefighter was transported to the hospital for treatment of heat related illness and another was treated at the scene. The fire department remained on the scene for over four hours monitoring for hot spots and flare ups.

Units:
Epworth Fire Engines 701, 702, 703, Ambulance 752, Command 774 and Tanker 735
Mutual Aid:
Centralia-Peosta Fire Engine 404, Tanker 433, Ambulance 451, Dubuque Fire Ladder 512, Farley Fire 801 and the Mobile Air Compressor, Dubuque County Sheriffs Office, Maquoketa Valley REC and Black Hills Energy.