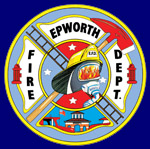 Web Counters
Website Visitors
Since
March 13, 2008

Visitors Today
Jun 24, 2018

2018 Response
Jan
12
Feb
15
Mar
21
Apr
27
May
9
Jun
Jul
Aug
Sep
Oct
Nov
Dec
Total
84
Responses 2017 - 2015
2017
225
2016
199
2015
170
Responses 2014 - 2000
2014
192
2013
177
2012
182
2011
191
2010
190
2009
187
2008
185
2007
198
2006
173
2005
142
2004
182
2003
183
2002
148
2001
164
2000
172
Responses 1999 - 1985
1999
176
1998
195
1997
174
1996
208
1995
163
1994
173
1993
167
1992
150
1991
140
1990
120
1989
165
1988
139
1987
130
1986
117
1985
143
Responses 1984 - 1970
1984
124
1983
115
1982
111
1981
100
1980
100
1979
77
1978
94
1977
97
1976
80
1975
64
1974
63
1973
46
1972
46
1971
50
1970
58
National Weather Service Alerts for Dubuque County, IA
Welcome to the Official Website for the Epworth Iowa Fire Department

Epworth Fire members drill using all new SCBAs

Firefighter II/EMT-B Daniel Kramer, June 12

At our monthly drill on May 21, 2018 all members of the Epworth Fire Department trained on the new MSA SCBAs (Self Contained Breathing Apparatus units) that were recently obtained through a Fire Act Grant. All new 16 SCBAS were tested and put in to service. These replace all the 15 year old SCBAs previously used. Members heavily practiced throughout the evening using the SCBAs at all levels including interior attacks and injured/downed firefighter techniques. Seen here are several pictures from that training. Thank you to the May Drill Team that provided the training and to all members who ... (Full Story & Photos)


Congratulations to EMT's Kyle Gansen and Ben Wolf

Chief Thomas Berger, May 16

The Epworth Community Volunteer Firemen, INC would like to congratulate Kyle Gansen and Ben Wolf on recently completing the Emergency Medical Technician (EMT) class and successfully passing the National Registry practical and didactic test. The class was sponsored by Northeast Iowa Community College EMS Training in Peosta. The five month class includes lectures, labs, clinical sessions in the emergency department and ride time with career ambulance services for training. It also requires many hours of hard work and studying by the members. Kyle and Ben now join 15 other EMTs and 12 Paramedics ... (Full Story & Photos)



EMTs Kyle Gansen and Ben Wolf practice patient assessment with EMT Kyla Horsfield at the Epworth Fire Station. Kyle and Ben recently passed all requirements and are now certified EMTs.


Congratulations and best wishes to Lieutentant Dave Theisen

Firefighter/EMT-B Daniel Kramer, May 10

At our regular Epworth Fire Business Meeting on May 7th, President Krapfl read a letter of resignation from Lieutenant Dave Theisen.

Dave has been with Epworth Fire Department and EMS for 30 years. During that time Dave was a certified EMT and FF2. Dave also served as Past President of Epworth Fire. In addition Dave has served on numerous department committees over the years.

The Epworth Fire Department family is extremely thankful for Dave for all of his years of service to the department. We wish Dave and his family the best.
Thank you Dave!

Burn Ban

Retired - Firefighter Gary Wilgenbusch, April 27

The State Fire Marshal and the fire chiefs of Dubuque County have put in place a burning ban effective noon today April 27th 2018. The ban will remain in place until the conditions improve with adequate rain in order to lessen the threat to life and property. The ban includes any open burning of fields, fence lines, leaves and yard waste. The exceptions to the ban include the use of outdoor fireplaces or barbeque grills. Fire pits can be used as long as the fire pit is constructed of metal, concrete, masonry or heavy one inch wire mesh. The fire pits need to have a metal cover with no openings ... (Full Story & Photos)


Epworth Firefighter monthly Drill - March 2018

Firefighter/EMT - Dan Kramer, March 20

The Epworth Fire Department members conducted monthly training at the Dubuque County Training Tower on Monday night March 19th.
Firefighters practiced various scenarios including Search and Rescue, Lost Firefighter/Escape Techniques, Ladder skills, and Truck/Pump Operations. Drill Team # 3 was in charge of Training this month. Thanks to everyone involved. ... (Full Story & Photos)

ST. FLORIAN'S PRAYER
Patron Saint of Firefighters
Guide us St. Florian on our every call,
Return us home safely one and all...
Your feedback is important to us! Feel free to sign the guestbook.