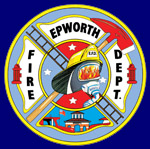 Web Counters
Website Visitors
Since
March 13, 2008

Visitors Today
Sep 17, 2019

Responses 2019
Jan
23
Feb
17
Mar
26
Apr
14
May
15
Jun
Jul
Aug
Sep
Oct
Nov
Dec
Total
95
Responses 2018 - 2015
2018
239
2017
225
2016
199
2015
170
Responses 2014 - 2000
2014
192
2013
177
2012
182
2011
191
2010
190
2009
187
2008
185
2007
198
2006
173
2005
142
2004
182
2003
183
2002
148
2001
164
2000
172
Responses 1999 - 1985
1999
176
1998
195
1997
174
1996
208
1995
163
1994
173
1993
167
1992
150
1991
140
1990
120
1989
165
1988
139
1987
130
1986
117
1985
143
Responses 1984 - 1970
1984
124
1983
115
1982
111
1981
100
1980
100
1979
77
1978
94
1977
97
1976
80
1975
64
1974
63
1973
46
1972
46
1971
50
1970
58
Welcome to the Official Website for the Epworth Iowa Fire Department


71st Annual Epworth Fireman's Picnic

Epworth Fire Department 71st Annual Fund Raising Picnic and Silent Auction

Firefighter Kyle Gansen, July 01

The Epworth Community Volunteer Firemen will hold their 71th Annual Firemen's Picnic on Friday, July 12th at the Epworth Fire Station. The event kicks off at 6pm and runs until 12am. There will be great food, cold refreshments, kid's rides and activities as well as some wonderful local entertainment by Mark Zalaznik from 7P-10P. This family orientated event is the annual fund raising event that supports the operation of the volunteer fire department. We will have some music entertainment for the crowd and the children's rides continue to be a crowd favorite. The main fund raising event has ... (Full Story & Photos)


Rest in Peace Fr. Bobby Jones

Chief Thomas Berger, May 17

Father Robert Jones, SVD passed away on Monday, May 13th at Techny, IL. Father Bob became involved with the department while a member of the Divine Word College Seminary. Divine Word Seminary has been an integral part of the Epworth Community and remains very supportive of our volunteer fire department. Allowing Father Bob to volunteer was just another way Divine Word gave back to its community. Father Bob was extraordinary because he became an active member of our department, trained to become a Paramedic, and will be forever remembered as our 'Firefighting Father'. Just as a church has a clergy, ... (Full Story & Photos)



Fr. Bobby conducts a blessing of the new fire station on March 15, 2009.


Epworth Fire - Conducts Fire Hose Testing

Firefighter/EMT Dan Kramer, April 23

On Monday night April 22nd, the Epworth Fire Department members conducted their regular fire hose testing.
This is a rigorous test of all hose closely analyzed while under constant pressure for a set amount of time based on NFPA standards.

One hundred percent of all hose for Epworth Fire was tested this night. This testing assures all equipment contains the most
up to date hose and assures safety for all our members. Thanks to everyone for their hard work this night.
Thank you. ... (Full Story & Photos)


Epworth Fire Department responds to barn fire

Chief Thomas Berger, March 12

On Monday, March 11, 2019 at 11:34 p.m. the Epworth Fire Department was notified by the Dubuque County 911 Center of a working structure fire located at 21728 East Pleasant Grove Road, Epworth. The 911 center received numerous calls from people in the area reporting the fire. Upon arrival, firefighters found a fully engulfed barn fire. The farm is owned and occupied by Steve McDermott. Mutual aid assistance was provided by the Centralia-Peosta and Farley Fire Departments for water support with tankers. 19 firefighters responded and remained on the scene for over three hours. The 40x60 barn ... (Full Story & Photos)


Epworth Unit 702 to be replaced

Firefighter/EMT-B Dan Kramer, March 05

Epworth Fire members are excited to report the new chassis and pump have arrived and work is soon starting on Vehicle 702.
This is a mini pumper and first responding EMS unit that operates out of Vernon Township area also known as our Station 2 located on Royal Wood Drive off of North Cascade Road.

This new vehicle is a 2019 Ford F550 which will replace an existing Ford 2009 F550 Simon vehicle. The new unit will feature a 1500 gallon per minute pump and all of the essential firefighting equipment and first response EMS equipment. The present vehicle was put in to service in May 2010 and this ... (Full Story & Photos)

ST. FLORIAN'S PRAYER
Patron Saint of Firefighters
Guide us St. Florian on our every call,
Return us home safely one and all...
Your feedback is important to us! Feel free to sign the guestbook.